Another August and another "I am too late to find a holiday". We planned a few trips to do this year, but some situations arose and we decided against booking. The prices don't help either. It is so expensive everywhere! It looks to be another staycation for my birthday…
If you are in a similar pickle (low budget) and live in the UK, a quick trip to Dorset might be just what you need!
The thing about Dorset is, I LOVE IT! We visited Dorset for a 4-day long road trip and I absolutely fell in love with this bit of England. And this was just a quick overview of the whole place, we haven't even been to some bigger towns in the region like Dorchester or Bournemouth. Long story short, Dorset is now high on my list when looking where to run away for a few days.
So what is there to do in Dorset? Loads, but here are a few things we did on our trip (check the post here).
Durdle Door
Durdle Door is a natural limestone archway appearing in the majority of the most famous images of the English coast side so, chances are, you have already seen it somewhere.
Legend has it that the rocks are approximately 140 million years old. The archway first appeared on the Ordnance Survey Map way back in 1811; it was called Dirdale Door.
Why is it called Durdle Door? The name Durdle derives from an Old English word 'thirl' meaning bore or drill. Door is pretty self-explanatory, the hole looks like an archway. Eventually, the arch will collapse to leave a sea stack such as those that can be seen at Ladram Bay in East Devon. One of the other famous limestone arches that recently collapsed is the Azure Window in Malta which collapsed in March 2017.
The thing you most likely want to know is – is Durdle door worth the hype? Short answer – YES!!
I was so taken by the clear sea and the beauty of the beach, I absolutely LOVED it!
Right next to Durdle door, you have the Man O'War Bay, a gorgeous little beach that screams "leave me alone to enjoy my life". To be perfectly honest, I was a bit annoyed at myself for not planning a few more days here to enjoy the coastline, it is definitely worth a visit!
Lulworth cove
The whole of Jurassic Coast is a haven for geologists, but Lulworth Cove seems to have the most to offer. It is close to Durdle door; some 30-minute walk down the busiest footpath in the southwest that sees more than 200 000 walkers daily! There are stairs and some bits are steep but it is definitely worth a trek. The whole path will give you some spectacular views.
However, for the best views, you should climb up the hill next to Lulworth Cove. Apart from seeing some interesting rock formations (talking to you geologists!), you will also have an almost areal view of the cove with a slightly dangerous peak/photo spot (see featured photo).
Now on to the important part – what is the beach like at Lulworth Cove? We visited end of August so it was pretty busy. To be honest, I prefer the Durdle Door one, BUT Lulworth Cove beach is fully accessible to people with mobility issues, unlike Durdle Door where you have to go down like a million steps to get to the beach.
Cerne Giant
This was our must-see when we planned to see Dorset. Why? I'll just leave a photo of what Cerne Giant is and you decide.
I don't have as good photos that I took myself as the giant is best seen from the air (we don't have a drone) or from a neighbouring hill. We met up with one of our bike mates at the parking lot below, went up to the base of the giant, and realised the rest of the climb is waaaaaay too steep so we got back on the bikes and went exploring down the coast.
About the Giant – the analysis of the sand tells us we can date it back to the 10th century making it Anglo Saxon (pervs!)
There are many theories of what it represents. One of my favourite ones is that it is a figure carved around the body of a giant who was slain by local people after he terrorised the countryside.
Interesting tidbit about the Cerne Giant? His penis is 36foot long (almost 11 meters).
Old Harry Rocks
Another popular spot especially for people who enjoy walking in nature. The best views are from a kayak (several tours available) but there are some pretty cool views from the top as well.
When we visited it was not too crowded. There were quite a few people in Studland (the town you have to get to to walk to Old Harry Rocks) but the rocks themselves weren't packed. To be frank, it is such a big area on top, I don't think it can ever feel too crowded. About the climb – pretty easy going with some steep parts, but nothing major.
Why Harry? Legend has it that the rocks were named after either a famous local pirate (Harry Paye) or the devil. The top of the cliff nearby is known as Old Nick's Ground which is another name for the devil
Interesting fact? Thousands of years ago, Old Harry and The Needles on the Isle of Wight were linked by a line of chalk hills that eroded away during the last ice age. On a clear day, you can see The Needles from Studland Bay (the distance between the two is about 25.66 km)
Sandy beach by Weymouth
This is a very popular tourist hot spot but we didn't go there. I mention it because looking at the Dorset map, it is difficult to miss. A long sandy stretch right in the heart of Jurassic Coast.
The beach was the go-to spot for King George III during times of illness – he suffered from porphyria (a lot of hematological issues in the Royal family… I wonder why…) He named Weymouth his 'first resort' and made swimming there fashionable.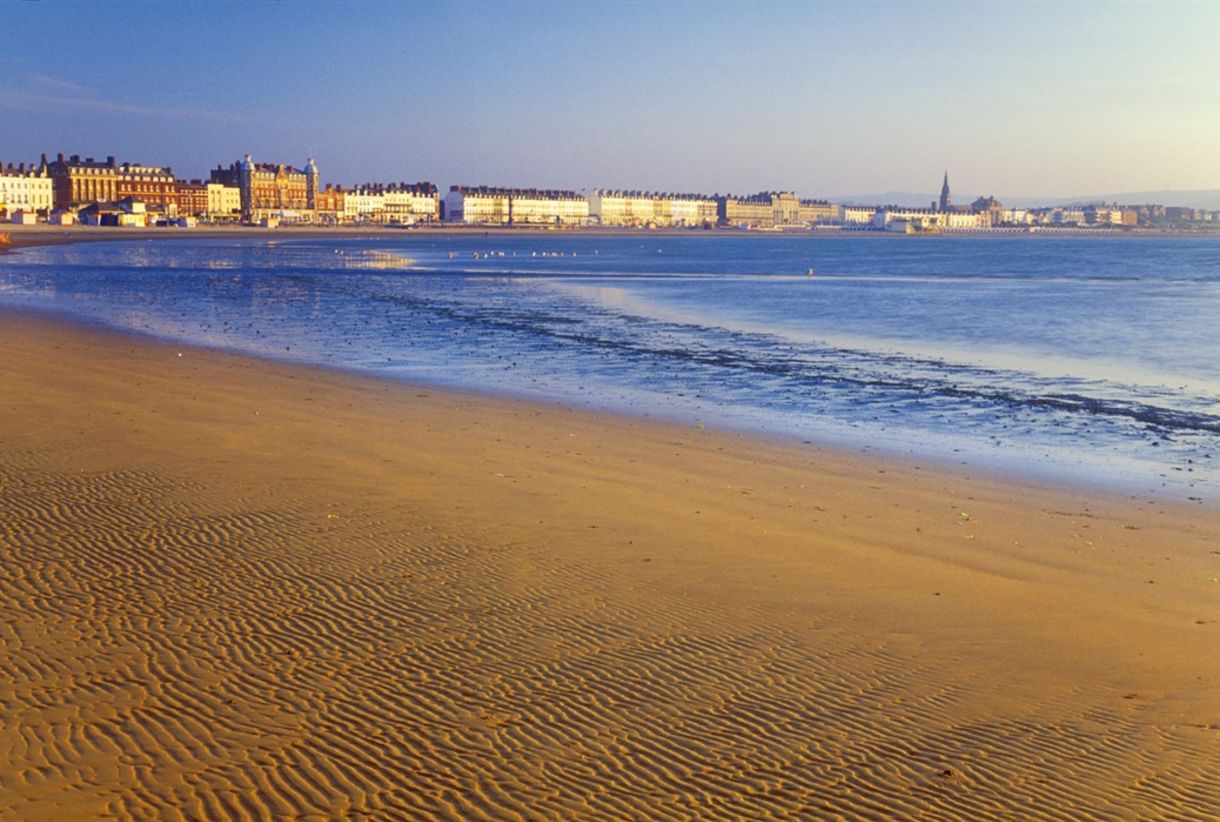 The beach is 3 miles long and there is loads of fun for kids and adults like donkey rides, Punch and Judy, sand sculptures, and trampolines. It is also used for motocross! You can follow the sandy stretch and walk all the way to West Bay (about 25km)
There are loads more things you can do in Dorset and on the Jurassic Coast:
Visit bigger towns like Dorchester, Poole, Bournemouth (famous for its long beaches).
Or you can visit some smaller towns like Lyme Regis, West Bay (biker gathering hot spot)… Almost all the towns/villages along the coast are pretty picturesque.
Visit Abbotsbury Subtropical Gardens – I wish we had time to visit these gardens but knowing me, we would spend a whole day there among the plants. It is on our list for next time.
A fan of swans? Visit Abbotsbury Swannery.
See the Osmington White Horse (The Cern Giant for kids and conservative people).
Explore Corfe Castle.
As you can see, there is loads to do in Dorset. Our trip was definitely way too short, but we do plan to go back. There are still too many things we would like to see, many nature paths we would like to walk and the sea that looks very inviting.
This British summer seems to have another heat wave in it before it's done for the year. Why not use it to go to Dorset?